Rohr Aircraft Memories
"a website for the Riverside Rohr/Goodrich Retirees
and Former Employees Club"
LuAnn van Hulle
LuAnn started at Rohr, in 1978, on a dare from her husband Jerry. She was bored and wanted a job. Jerry said "you'll never get a job at Rohr." She got dressed up and got an interview without an appointment and was hired on the spot. She never took a typing test. She worked for Larry Hawkins as the secretary in Facilities, she was the FR lady. She got a quick pre-employment physical as required and then was introduced to Tom and Larry.
LuAnn worked as a Maintenance Activity Coordinator in the Maintenance Department (Department 242). She remembers one time at Christmas time when a rum cake showed up. It was very delicious. Rohr's health insurance surpassed anything she had ever seen. It was very inexpensive for the employees. LuAnn remembers working at Rohr during the strike of 1984.
LuAnn worked at Rohr for 15 years before being laid off and retiring in 1992. "Rohr was wonderful to us," Lu Ann said.
She remembers shopping at Sears and Sages, and dining at Farrell's Ice Cream Parlor (which has now been torn down) and at The Dunes which was a bar, restaurant and dance hall before it became the Carlos O'Brien's restaurant at the Riverside Plaza.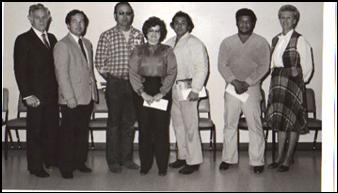 Jerry Myers – Lu Ann Van Hulle, 5th – Art Ortega
(Photograph courtesy of LuAnn Van Hulle)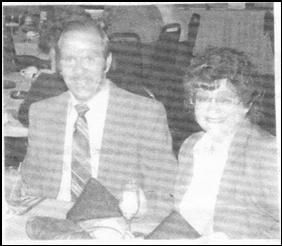 Jerry and Lu Ann Van Hulle at the National Management Association's October 1983 meeting.
(from the NMA newsletter, November 1983)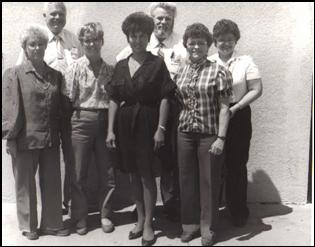 Winners of Weight Loss contest 2nd – Ray Smith, 4th (Shipping Dept), 5th – Mac McMahan, 6th - Rosie Shine, 7th – LuAnn Van Hulle
(Photograph courtesy of LuAnn Van Hulle)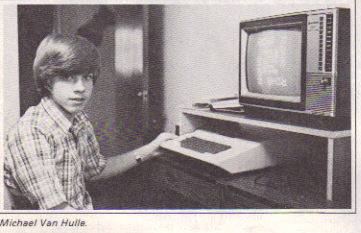 Michael, son of Jerry and LuAnn Van Hulle, temporarily worked at Rohr/Goodrich.
Interviewed by Sue Poole, June 15, 2006 and October 19, 2006
---
Last updated May 16th 2007